The Kenai Watershed Forum encourages a diverse board of directors to represent the myriad of interests in our geographic region. It is our goal to have balanced representation from economic development, environmental interests and fisheries user groups (sport, commercial and subsistence) without designated board seats. This balance along with the use of consensus-based decision making makes our organization unique, allowing us to earn the respect of the communities we work in while working together for healthy watersheds on the Kenai Peninsula.
We invite you meet our Board of Directors:
Denise Newbould  -President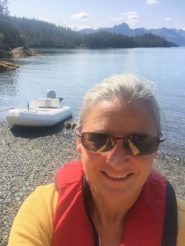 Since moving to the Central Peninsula in 1991, Denise Newbould has been active in the local community. Before retiring, she had a long career as an environmental scientist. In that capacity, Denise participated with the local Caring for the Kenai environmental awareness competition for high school students for over 10 years, visiting high school science classes to help students develop their ideas, and serving as an essay judge and presentation judge. She is currently the President of the Kenai Watershed Forum Board of Directors, and has served on the KWF Board since 2010. Prior to serving on the Board, Denise (who is a certified LEED green building design professional) helped the Watershed Forum to incorporate a green building design into the renovation plan of its current office. Denise and her husband Doug have been supporters of Alaska Public Media and KDLL, the local food bank, and Love Inc. since the early 1990's. She is passionate about the beautiful and biologically rich environment in which we are all fortunate to live, and believes it is the responsibility of all of us to take good care for it.
Matt Pyhala- Vice President/Secretary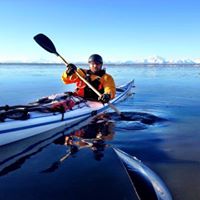 Matthew Pyhala, D.C. has served on the Board of Director of the Kenai Watershed Forum since 2012. Dr. Pyhala is a life-long Alaskan and grew up on the Kenai Peninsula in Anchor Point. He is the grandson of Earl and Margarite Johnson, Anchor Point homesteaders. Matthew grew up on the homestead overlooking the North Fork of the Anchor River. His youth was spent traversing the banks fishing for Rainbow Trout and Dolly Varden and exploring the rich watershed below his home. He commercial fished on the family set gillnet sites on Kalgin Island, then drift gillnet in Cook Inlet and Bristol Bay along with halibut longline fishing.   He graduated from Homer High School in 1993, then attended Gonzaga University, earning a Bachelor of Science in Exercise Science in 1997. Following his undergraduate studies, he enrolled at Western States Chiropractic College, earning his Doctor of Chiropractic in 2001. Immediately following graduation from chiropractic college, he returned to the Kenai Peninsula where he has since lived and practiced as a chiropractic physician. Dr. Pyhala has served on several boards for various nonprofit organizations. He is an active Rotarian with the Rotary Club of Soldotna. He is an avid sea kayaker and holds a level 4 Coastal Kayak Instructor certification through the American Canoe Association. He and his wife, Sarah, own and operate a small paddling instruction company, Immersion Paddling Academy, LLC, focusing on safe paddling and skill progression. Matthew has two children, Moira and Tabor. Moira is a recent UAA graduate and now lives and works in Anchorage. Matthew, Sarah, and Tabor live in Kenai near the river mouth. Matthew is happiest when he's outdoors experiencing nature.
Dr. David Wartinbee – Treasurer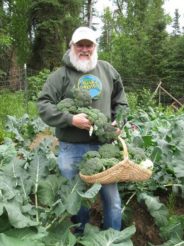 At age nineteen, David was teaching metal working skills as a Peace Corps Volunteer in the western African country of Senegal. Returning to Pennsylvania and continuing his schooling, he studied Biology. David received a BA and a MS in Biology from Clarion University in Pennsylvania. Moving on to the University of Pittsburgh, he earned a PhD in Biology. David became a Professor of Biology for 22 years at East Stroudsburg University in PA. Along the way he earned a JD degree from Cooley Law School in Lansing, Michigan and was admitted to the Bar in both Pennsylvania and Alaska.  David and his wife Kathleen moved to Kenai Peninsula in 1997 where he had been doing research on aquatic insects of Alaska. He discovered several new species of midges and identified the Chironomidae (midges) found in the Kenai River. The University of Alaska Anchorage, Kenai Peninsula College, hired him as a Professor of Biology and he taught there for 18 years before finally retiring from another job that he loved.  David has been an active volunteer his entire life, serving as a volunteer EMT and Paramedic for 17 years and a volunteer National Ski Patrol member for 30 years. In Alaska, he has been very active volunteering for the Tustumena-200 and the Iditarod Sled Dog Races as well as helping on a variety of Rotary Club projects. His continual pastimes are flying his airplane, riding a snowmobile, camping, hiking, gardening, and fishing anywhere there are fish.  He became a board member of the Kenai Watershed Forum in 1998 and has enjoyed guiding and supporting the services provided by KWF.
Scott Bloom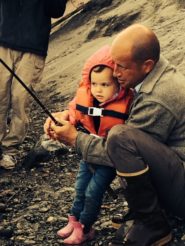 Scott Bloom has served on the Board of the Kenai Watershed Forum since 2016. Born and raised in Alaska, Scott now lives on mile 16 of the Kenai River with his wife and three girls. Scott has an undergraduate degree in Biology and Environmental Sciences from Whitman College and a law degree from Gonzaga. He has spent his life on the waters of Alaska as a commercial fisherman, fly fishing guide and sports fishermen. Scott is on the Board of the Watershed Forum because he believes in it's mission based on education, restoration and research to preserve the watersheds of our community, so his children can enjoy the rich resources they offer as much as he has.
Terri Carter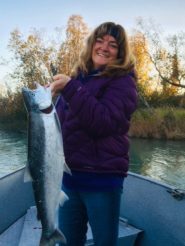 The Kenai River was the background for most of Terri's childhood experiences. It is the ribbon that laces her memories together. Born in Soldotna and raised in a cabin her family built on the banks of the river, she personally witnessed the impacts of development and increased use and is compelled to be involved in advocating for the health of the river rather than any specific user group. She has served 6 years on the Kenai River Special Management Advisory Board and now serves on the board for the Kenai Watershed Forum. Terri has a master's degree in elementary education curriculum integration and is in her 23rd year of teaching for the Kenai Peninsula School District. Every year she takes her class rafting on the river as they study the science of the watershed, history of its people and the life cycle of the salmon. She wants to encourage the next generation to love the river and empower them to protect it.
Dave Trudgen
*Photo and bio coming soon!
Ed Schmitt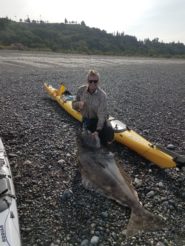 Ed has had a deep love for the Kenai River ever since his first visit in Aug of 1988 when he was fortunate to catch a fly rod world record salmon. He appreciated the unique nature of the Kenai river and that it was one of the last places on earth that still produced such large numbers of huge salmon.  He is a retired surgeon and cattle rancher who recognizes that preserving intact ecosystems and managing them for biodiversity is essential in a world seemingly dominated by human activity.  He is an active fly fisher, kayaker, climber, biker, birder and hiker on the Kenai Peninsula.