Free Family Fun for Everyone!
Download the 2017 Kenai River Festival Kids Zone Activity Application HERE!
The KWF Kids Zone is busting with free, hands-on fun for the entire family on festival Saturday and Sunday.  Learn about the river and get a chance to win an iPad through trivia, arts & crafts, storytelling and more!
KWF Kids Zone Hours
Saturday: 11am-5pm
Sunday: 11am-5pm
Passport to Fun
Win an iPad at the Kenai Watershed Forum booth!  Stop by the KWF Welcome Tent and grab your passport for a chance to win.  Enjoy the KWF Kids Zone and collect stamps from each completed activity.  Once your passport is completed, return it to the KWF Welcome Tent for your chance to win.  Winners will be contacted by June 20.
*Big thanks to our 2016 iPad sponsors – City of Kenai and Cook Inletkeeper!
---
KWF Kids Zone Highlights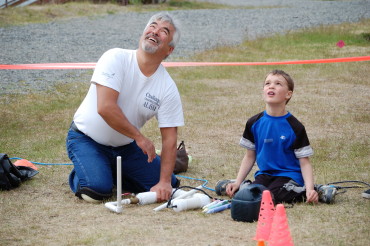 Thank you to all the participants in the 2016 Kenai River Festival Kids Zone Activities:

Gyotaku T-shirts: AK Department of Fish and Game & Kenai Watershed Forum
Casting for Clean Water: Aspen Hotels of Alaska
Kenai Watershed Animal Puzzles: IDEA Homeschool
Finalist Educational Display: Caring for the Kenai
Salmon Mural: Cook Inlet Academy
Fish Migration Obstacle Course: Kenaitze Early Childhood Center
River Rockets: Challenger Learning Center of Alaska
Life Jacket Relay: Safe Kids Kenai Peninsula
Water Table Ping Pong Ball Toss: Trinity Christian Center
Earthquake Simulator: AK Division of Homeland Security and Emergency Management
Face Painting: Kenai Peninsula Education Association (KPEA/KPESA)
Aquatic Archery: Sportsman's Warehouse
Pathways to Fishing: U.S. Fish and Wildlife Service
Fish Painting: Boys & Girls Club
Salmon Life Cycle: Alaska EPSCoR
Wetlands Snow Cones: Kenaitze Indian Tribe Environmental Program
Salmon Dissection: Cook Inlet Aquaculture Association
Hand Print Fish Buddy: Girl Scouts of Alaska
Kids Photo Booth: River City Academy
Ice Bucket Life Jacket Challenge: Alaska State Parks
Matti's Farm Permaculture: Matti's Farm