Make Your Child a Happy Camper!
Every child dreams of camp–exploring creeks, singing silly songs and frolicking in the forest.
Make your child a happy camper!  The Kenai Watershed Forum is happy to offer the week-long day camp Fur, Fins, Flowers, Feathers and Fun at Soldotna Creek Park. What better way for your child to spend a summer day than by exploring Soldotna Creek on a bug hunt, flipping over logs to see decomposition in action or pretending to be a forest predator on a hunt?
Each week-long session will include games, crafts, lessons, songs and most importantly, lots and lots of fun!
Camp size is limited so reserve your spot early!  Scholarships are available.
---
Camp Directors
Dan Pascucci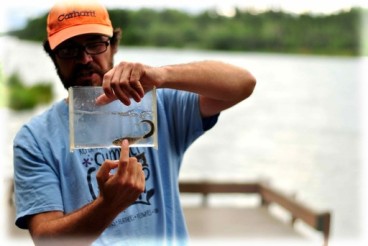 Dan is the KWF Education Specialist and Adopt-A-Stream Coordinator. Dan has over 15 years of experience with engaging environmental education and over 35 years of experience exploring nature.  Dan brings a high level of enthusiasm and dedication to camp!
Kati Dutcher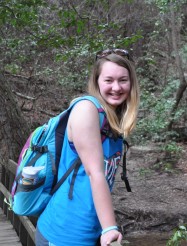 A lifelong Alaskan, Kati spent her days exploring the Kenai Peninsula and is currently studying elementary education to better connect children with the great outdoors and their academic studies. Kati can think of no better way to spend her summer than to share her passion for creativity and learning with children.
Different Sessions for Different Ages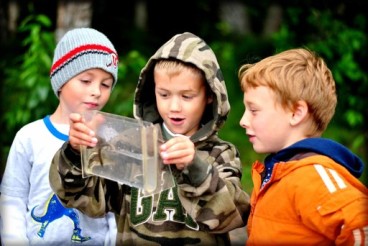 Camp Hours:  9am to 4pm
Children are asked to be dropped off at Soldotna Creek Park and ready for the day's activities by 9am.  Children will be finished with their camp day and ready for pick-up at 4pm.
To ensure campers get the most out of their experience, we offer different sessions for different ages with slightly different focus areas.
Small Fry Camp for Ages 6-8
Small Fry Camp
A fun week full of activities and games that encourage integration with the natural world
*Please note:  Children must have completed Kindergarten to participate in this camp.
Sessions
2017 Camp Dates TBA
Wild About Art Camp for Ages 6-12
Wild About Art 
Art is great way to create memorable connections to encourage a love of nature and connect with children's wild side.
Sessions
2017 Camp Dates TBA
Adopt-A-Stream Camp for Ages 8-12
Adopt-A-Stream Camp 
Featuring all of the fun of our famous Adopt-A-Stream program wrapped into one week of water testing, insect hunting and watershed exploration.
Session
2017 Camp Dates TBA
Smolt for Ages 9-12
Smolt Camp 
The same fun as the Small Fry class, but for older ages!
Sessions
2017 Camp Dates TBA
---
Registration Information
Registration is easy!  There are 15 spots available in each session.  You are encouraged to register early, as the sessions will "close" when each camp reaches capacity.
$150 per camper/per session
Payment can be made by cash, check or credit card.
Option 1 – Register online on the next tab down.  It's quick and easy.  You will be emailed the rest of the packet to fill out and turn in before your child's camp begins.
Option 2 – Download the 2016 Registration Packet. Once the packet is completed please mail, email, fax or drop off at the Kenai Watershed Forum Office in Soldotna Creek Park.
Option 3 – Has your child attended camp before? Download the 2016 Re-Enrollment Form and submit to the Kenai Watershed Forum.
Classes size is limited so reserve your spot early!
Scholarships
Campers interested in a scholarship must submit the
2016 Scholarship App
 with their registration form.  There are a limited number of scholarships available and they are awarded as they are submitted until the scholarship fund is depleted.
Camp scholarships are made available by generous contributions from individuals, local business and organizations.
*If you would like to contribute to the scholarship fund, please contact sarah@kenaiwatershed.org.
---
Thank You!
An investment in youth is an investment of our future.  ConocoPhillips and the US Fish and Wildlife Service have embraced this philosophy as well as the mission of KWF by their cornerstone support of KWF Summer Camp.  It is through their generosity that KWF Summer Camp came to fruition its first year.  Their support helped launch the program and has given KWF the opportunity to build a solid foundation for this camp.  We are most appreciative of their continued support of KWF and our programs.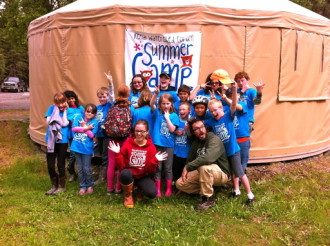 $25,000 – ConocoPhilips
$20,000 – US Fish & Wildlife Service
$10,000 – Hilcorp Alaska
$3,000  – Wells Fargo
In-Kind – City of Soldotna