Make Your Child a Happy Camper!
Every child dreams of camp–exploring creeks, singing silly songs and frolicking in the forest.   The Kenai Watershed Forum is happy to offer the week-long day camp, this year's camp theme is "Wilderness, Wildlife & Wonder" and will be offering several locally-focused, science and environmental-themed sessions, for kids aged 6-12.

All sessions will involve fostering a connection to nature through a hands-on, immersion in the outdoors, allowing them to see, feel, smell and directly experience the flora and fauna of the Kenai Peninsula watershed for themselves.
Camp size is limited so reserve your spot early!  Scholarships are available.
---
Camp Staff
Megan Pike
Megan is joining the Kenai Watershed Forum full-time staff in April 2019, and is excited for summer camp!
Camp Assistant – TBA
---
Different Sessions for Different Ages
Camp Hours:  9am to 4pm Children are asked to be dropped off at Soldotna Creek Park and ready for the day's activities by 9am.  Children will be finished with their camp day and ready for pick-up at 4pm.
To ensure campers get the most out of their experience, we offer different sessions for different ages with slightly different focus areas.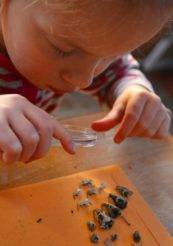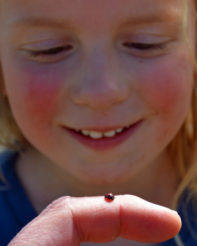 ---
Novice Naturalists ~ Camp for Ages 6-8
These sessions are designed to begin building a basic foundation of science in small children upon which more advanced environmental understandings can be built later in life. These sessions will include informative lessons and games, nature-themed art projects, presentations by plant and/or animal experts, and field forays such as hikes in the Kenai National Wildlife Refuge.
*Please note:  Children must have completed Kindergarten to participate in this camp.
2019 Sessions
June 10 – 14
June 17 – 21
July 8 – 12
July 22 – 26
Intermediate Ecologists ~ Camp for Ages 9-12
These sessions involve empowering the slightly older participants with more advanced concepts related to understanding environmental processes, with an added dimension of introducing them to environmental study and stewardship.
2019 Sessions
June 24 – 28
July 15 – 19
July 29 – August 2
Registration Information
Registration is easy!  There are 15 spots available in each session.  You are encouraged to register early, as the sessions will "close" when each camp reaches capacity.
$175 per camper/per session
Payment can be made by cash, check or credit card.
Option 1 – Register online on the next tab down.  It's quick and easy!  You will be emailed the rest of the packet to fill out and turn in before your child's camp begins.
Option 2 – Download the 2019 Registration Packet (link working soon). Once the packet is completed please mail, email, fax or drop off at the Kenai Watershed Forum Office in Soldotna Creek Park.
Classes size is limited so reserve your spot early!
Scholarships
**All Scholarship have been awarded for Summer 2018.
Campers interested in a scholarship must submit the 2018 Scholarship Application with their registration form.  There are a limited number of scholarships available and they are awarded as they are submitted until the scholarship fund is depleted.
Camp scholarships are made available by generous contributions from individuals, local business and organizations.
*If you would like to contribute to the scholarship fund, please contact tami@kenaiwatershed.org.  
---
Thank You!
An investment in youth is an investment of our future.  ConocoPhillips and the US Fish and Wildlife Service have embraced this philosophy as well as the mission of KWF by their cornerstone support of KWF Summer Camp.  It is through their generosity that KWF Summer Camp came to fruition its first year.  Their support helped launch the program and has given KWF the opportunity to build a solid foundation for this camp.  We are most appreciative of their continued support of KWF and our programs.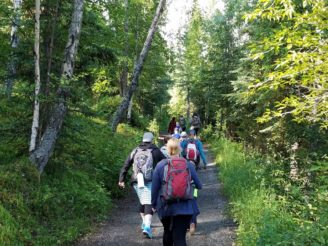 $25,000 – ConocoPhilips
$20,000 – US Fish & Wildlife Service
$10,000 – Hilcorp Alaska
$3,000  – Wells Fargo
In-Kind – City of Soldotna