Free Family Fun for Everyone!
The KWF Kids Zone is busting with free, hands-on fun for the entire family on festival Saturday and Sunday.  Learn about the river and get a chance to win an iPad through trivia, arts & crafts, storytelling and more!
KWF Kids Zone Hours
Saturday: 11am-5pm
Sunday: 11am-5pm
Passport to Fun
Win an iPad at the Kenai Watershed Forum booth!  Stop by the KWF Welcome Tent and grab your passport for a chance to win.  Enjoy the KWF Kids Zone and collect stamps from each completed activity.  Once your passport is completed, return it to the KWF Welcome Tent for your chance to win.  Winners will be contacted by June 22.
---
KWF Kids Zone Highlights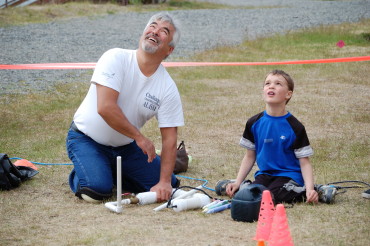 Take a look at the exciting Kenai River Festival Kids Zone Activities in 2017:

Bird TLC (based in Anchorage) will be bringing two live birds to interact with the public.  An eagle will be released back into the wild at 2PM. Look for the designated area and don't be late!  Saturday and Sunday from 12-3 p.m.
Pacific Salmon Game: Trinity Christian Center
Kids will learn the five types of Pacific salmon by playing a fun memorization game.
Bring the Farm to Town: Matti's Farm
Matti's Farm will share information on sound, environmentally friendly composting practices along with a few farm animals for everyone to interact with.
Teen Photo Challenge, Fish Need Land Too: Kachemak Heritage Land Trust
This contest is specifically designed to encourage teenagers to connect with nature through photography. Encourage teens to connect with nature and learn about salmon habitat by participating in a photo scavenger hunt. Checklist items will be important to salmon and nature in general. Prize will be awarded by random drawing Sunday.
Plinko Fish Game: Aspen Hotels of Alaska
Learn how salmon eggs create salmon by playing this unique plinko game.
Fish Painting: Boys & Girls Club
Get creative with the Boys & Girls Club! Personalize and take home a decorative wooden fish. Families have been collecting custom fish for generations. Start or add to your collection in time for Father's Day.
Fishing Vessel Sustainability: AK Department of Fish & Game/AK Seafood Marketing Institute
Using an 8' model of a gillnet fishing vessel, this knowledgeable crew will teach your kids about how to care for the environment while commercial fishing.
Learn how to prepare your wild caught salmon from some of our local commercial fisherman.
Gyotaku T-shirts: AK Department of Fish and Game & Kenai Watershed Forum
Gyotaku is a traditional nature printing technique that Japanese fisherman used to record the size of their catch.  Currently gyotaku is very popular with Japanese children and now Alaskans!  Become the next Boshi Nagase (famous gyotaku artist) and record your "catch" on a t-shirt for all to see!  Saturday only.  $5 donation.
Hooked on Fishing: Kenai National Wildlife Refuge
Come learn about angler safety befiore trying out fishing rods in the casting zone. There will also be an opportunity to create a salmon craft.
Finalist Educational Display: Caring for the Kenai
For almost three decades, Caring for the Kenai program has educated students in environmental issues as well as natural disaster preparedness. When asked how to better care for the Kenai Peninsula, the top contenders in the Caring for the Kenai competition stepped it up.  Visit this display to learn more about the creative solutions our community youth have proposed to protect the health of our watershed and increase our safety.
Salmon Wetlands Snow Cones: Kenaitze Early Childhood Center
Learn how wetlands filter groundwater and are nature's nursery with the use of a snow cone!
Salmon Education: The Study
Learn about salmon with some help from clay!
Wildlife Habitats:  Alaska State Parks
Come by to learn what specific animals require for an ideal habitat. Kids will be fishing for habitat components to build the perfect habitat for some of our favorite creatures. What a fun way to learn about the environment!
Salvage Art Exhibit: ReGroup
Families will have the chance to engage with recycling experts on the local recycling options. This exhibit promotes artistic expression through recycled materials.
Salmon Dissections: Cook Inlet Aquaculture Association
Two salmon dissection events will occur to show festival participants the internal anatomy of a salmon. Saturday only at 12 p.m. & 1:30 p.m.
Casting Competition: Kenai Peninsula Trout Unlmited
Kids learn to cast!  TU members will be on hand to teach a few casting techniques followed by a friendly casting completion.
Rod Giveaway: Kendall Chrysler
Stop by for a chance to win a new fishing pole!  30 plus poles will be given away, names drawn Saturday night.  Don't need to be present to win but you have to stop by to enter!
Smokey the Bear: U.S. Forest Service
Only you can prevent forest fires. Come hang out with Smokey Bear! Learn what it takes to properly put out a campfire.  Learn about how you can prevent the next forest fire.
Photo Bank: Kenai Peninsula Reentry Coalition
Utilizing a mock river bank, we will provide props and produce a photo.
Alaskan Animal Scramble: IDA Homeschool
Book giveaway, geometric cubes and animal scramble.