The Salmon Run Series was created by Allie Ostrander as an idea for the 2012 Caring for the Kenai contest.  Earning 2nd Place was not enough for Allie.  She wanted to see her project come to fruition.  And it has!  The Salmon Run Series was launched in summer 2012 and hasn't looked back.  With over 100 runners participating regularly, the Salmon Run Series has taken a spot in the local runner's calendars for several years.
Race Info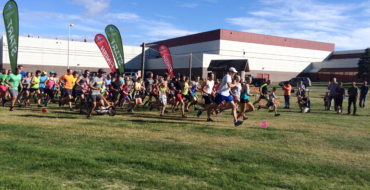 SRS is now Virtual!  What is a virtual race?
Ours has a weekly route but you can run at any location, at your pace, outside or on a treadmill, alone or with a group of friends. Train and stay active and best of all, run for a good cause!
Choose our scheduled course or run your own 5K.  Turn in your results by 10 AM the Thursday following the race to be included in the final race results for that week.  Run Keeper, Strava, and most running apps acceptable.
July 8~ July 15~ July 22~ July 29 ~ August 5
To help keep you running we are adding another twist to the salmon run series.
We have 2 Alaska Railroad tickets to give away.  It's simple, for every registered and completed 5K you run with us you get a chance to win.  5 races, 5 chances.  We have the info for the first 2 weeks, so now, register to run like always, complete a 5K on our route or your own and send in the results.  You can message them to us via Facebook or email Tami@kenaiwatershed.org.  They need to be different runs with different dates to be eligible.
Winner will be drawn on August 6th!!!
Detailed race routes and info available weekly on the Salmon Run Series Facebook page.  Please check regularly for updates, announcements and info. 
CPH EMPLOYEE ONLINE REGISTRATION!
A Kids 1K Race was an addition to the Salmon Run Series in 2014.  Send us some pics of your kids, we really want them to keep running.  Ths kids race will be back next year!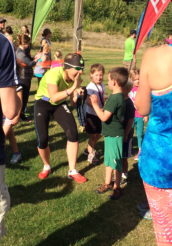 Two time Mount Marathon champion and Olympic skier, Holly Brooks, was head of the cheering section during her guest appearance summer 2015.
---
BBQ!
BBQ will be back next year!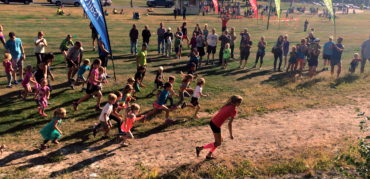 ---
The generous sponsorship of the Salmon Run Series by Central Peninsula Hospital makes this local running event possible.  Central Peninsula Hospital supports healthy lifestyles for their staff and our community while providing the highest quality of care on the Peninsula.  Thanks CPH!