Come run with the salmon! 5K races and Fun Runs at 6PM every Wednesday from July 7 – August 4. Register below.


In Alaska, we like summer, especially the salmon that run in our rivers and the abundant sunshine that calls us to put on our running shoes and head out for an adventure. Why not put the two together? Allie Ostrander did just that when she started Salmon Run Series as her Caring for the Kenai project in 2012.
Allie's incredible determination got this great race series started, and we are proud to host the Salmon Run Series today with the same spirit that Allie brought when she started it.  With over 100 runners participating regularly, the Salmon Run Series has a central spot on the local running calendar with 5Ks and Fun Runs each Wednesday. Curious about what Allie is up to today? Follow her on Instagram or Twitter!
Race Info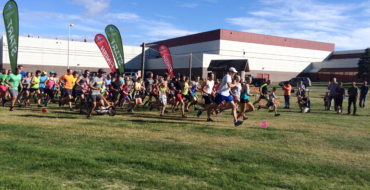 The Salmon Run Series will be back in 2021! Courses are yet to be determined, but we plan to have both in person and virtual options! For five weeks straight, we will have a Kids K and a 5K event. Virtual runners can join in from any location, outside or on a treadmill, alone or with a group of friends. Train and stay active and best of all, run for a good cause!
For virtual runners:  turn in your results by 10 AM the Thursday following the race to be included in the final race results for that week.  Run Keeper, Strava, and most running apps acceptable.
July 7~ July 14~ July 21~ July 28 ~ August 4
REGISTER ONLINE NOW!
A Kids K Race was an addition to the Salmon Run Series in 2014, and you can be sure it will happen again in 2021!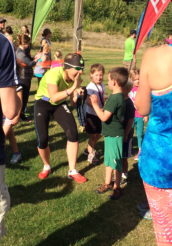 Two time Mount Marathon champion and Olympic skier, Holly Brooks, was head of the cheering section during her guest appearance summer 2015.
---
The generous sponsorship of the Salmon Run Series by Central Peninsula Hospital makes this local running event possible.  Central Peninsula Hospital supports healthy lifestyles for their staff and our community while providing the highest quality of care on the Peninsula.  Thanks CPH!