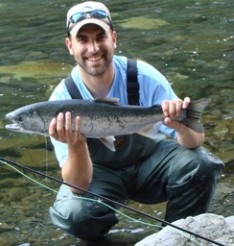 Branden Bornemann
Executive Director
Kenai Peninsula Fish Habitat Partnership Coordinator
(907) 260-5449 ext 1206 branden@kenaiwatershed.org
Profile
Branden has ten years of nonprofit and scientific experience on the Kenai Peninsula. He is passionate about supporting all things related to the nonprofit sector in Alaska, and is a recent graduate (Dec. 2019) of the Foraker Group's Certificate in Nonprofit Management cohort. Branden's background is in environmental management, having studied earth system science and policy in graduate school, and he has extensive experience with spatial analysis and visualization using GIS and remote sensing technologies. Branden also serves on the Kenai River Special Management Advisory Board and the City of Kenai Harbor Commission, and is a board member for KDLL Pickle Hill Public Radio in Kenai.
Branden grew up on the northern great plains in North Dakota near the geographical center of North America (basically, as far away from any coastline one can get on the continent). Having grown up surrounded by grass and beef (and very few trees), Branden feels honored and privileged to have the opportunity through our work at KWF to develop such a deep connection with the amazing and unique salmon landscapes and societies that make the Kenai Peninsula and greater Alaska such special places.
---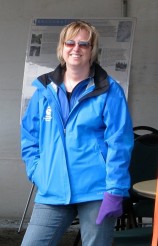 Rhonda McCormick
Accounting Manager
Grant Management
Publication Sales
Run for the River Coordinator
(907) 260-5449 ext. 1203 rhonda@kenaiwatershed.org
Profile
Born and raised in Alaska, Rhonda is proud resident of the Kenai Peninsula. Rhonda joined the KWF family 2008 as the Accounting Manager. She quickly grew to wear a few other "hats" as Grant Manager and Run for the River Coordinator. She does light bookkeeping for a few local business and non-profits, but always claims KWF as her "real job". She also teaches a Quickbooks class for a local educational center.
Rhonda is a crafty lady – crochet, cross stitch, quilting – but also enjoys reading and loves her three miniature dachshunds.
---
---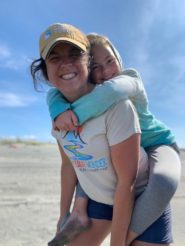 Megan Pike
Education Specialist
Adopt A Stream Coordinator
Summer Camp Director
(907) 260-5449 X1210 meg@kenaiwatershed.org
Profile
Meg found her passion for working with kids in the outdoors where she grew up hiking and fishing on the coast of Maine. While pursuing a career in child development and adaptive outdoor education at University of Maine, she spent five years working at a nature-based summer camp for individuals with varying disabilities and advocating for more inclusion in the outdoors. Moving to Alaska for a new adventure in 2018, she took on the role of Education Specialist at KWF coordinating their long-standing Adopt-A-Stream program. Fostering a connection to nature through watershed studies, Meg spends her time visiting local classrooms to share her passion for salmon, access to water, and being outside.
When not at work, Meg can be found hiking with her pup Indie, floating the river, baking copious amounts of sourdough, digging in the garden, or finding literally any excuse to be in the sunshine!
---
Profile
Galen grew up in the southern Rocky Mountains of New Mexico before pursuing an interdisciplinary education in Human Ecology focused on western water policy and communications. Prior to joining Kenai Watershed Forum, he conducted a Watson Fellowship investigating innovative strategies to support healthy rivers across international borders and helped start a campaign to restore flows to the Rio Grande. Though new to Alaska, Galen is a big fan of the state and will probably never leave. He is passionate about working to sustain the intact salmon rivers that set Alaska apart from the rest of the world.
When he isn't at work, you will find Galen backcountry skiing, trail running, fishing, or cooking.
---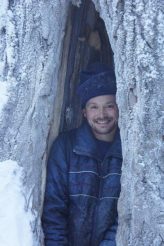 Profile
Ben grew up in Wasilla, Alaska and holds an M.S. in Fisheries from University of Alaska Fairbanks. Benjamin has worked throughout Alaska in diverse natural resource management professions including wildland firefighting, science consulting, and tourism. Outside of Kenai Watershed Forum you can find him working on converting an old bus into an RV, coaching Junior Nordic at Tsalteshi Trails, or watching his dog chase squirrels. He loves reading and hearing about Alaska history.
If Ben could meet any famous person from history it would be the caveman or cavewoman who drew the world's oldest known picture of a salmon, 25,000 years ago on the ceiling of the "Abri du Poisson" cave in France.
---
Brendan McAllister
University of North Carolina
Invasive Species Technician
---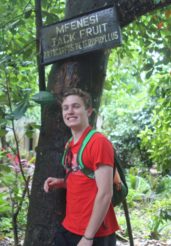 Jack Buban
University of Georgia-Warnell School of Forestry and Natural Resources
2021 Summer Intern – Hydrology
---
Brandon Drzazgowski
Michigan State University
2021 Summer Intern – Stream Watch